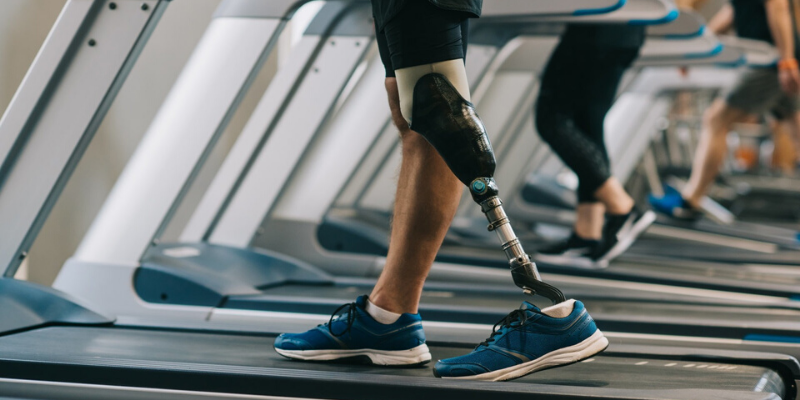 Deciding whether or not you want a prosthetic device takes consideration. If you decide it's the right choice for you, there are more decisions to make in terms of comfort and design. Take these aspects of prostheses into account when deciding if it's right for you.
Why do people like prostheses?
They are a tool to be able to complete the skills or goals a person has for their life. These goals vary for each individual at each phase of their lives. Some of these goals are activity-based such as a goal to run or cycle. Others have goals based on aesthetics, or how they want it to look. Others desire whatever is the most comfortable, wanting to use the device for daily functions such as walking.
Physical Therapy
Before making a decision on whether or not you would like a prosthesis, you will spend some time in physical therapy following surgery. A physical therapist will work with you on balance and self-care using crutches or a wheelchair. A prosthetist will check in frequently to monitor progress and determine your readiness for a prosthetic device based on healing and therapy.
Preparatory Prosthesis
Before making a decision on the final prosthetic device, you will use a preparatory device. These can help you to adjust to the idea of a prosthesis and help you make a final decision. It will aid in reducing phantom pain, independence and provide practice for weight-bearing.
Making Adjustments
It's important to consider the fittings and adjustments that need to be made. You should be prepared to make and keep appointments to ensure that everything is fitting properly and comfortably. For children, they will have frequent meetings with prosthetists to adapt to the prosthetic device as the child grows. Residual limbs will always be changing in shape and prosthetic devices will need to be updated as they wear down.
What kind is right for you?
Each person will find a device that is right for them. You will work with an entire team of specialists including therapists, doctors and prosthetists to get the device that fits you and your lifestyle best. There are a variety of types such as: sports prostheses, myoelectric, hybrid upper extremity prostheses and more at Bioadvance Prosthetic Solutions.
If you have questions about whether there's a prosthetic device that will help you to reach your goals, we are here to assist in the process. To learn more about our products and services, get in touch with us.